Ingrown hair bump is a pretty headache issue for a lot of women and men. First, what is ingrown hair bump? Aningrown hairoccurs when a shaved or tweezed or waxinghairgrows back into the skin. It can cause inflammation, pain and tiny bumps in the area where thehairwas removed. What are the solution or prevention methods best for you?
I found one simple trick – How to ended ingrown hairs from waxing? Say bye to razor burn, redness, and  ingrown hair. To apply bump fighter daily after shower on the area to prone to have ingrown hairs very often. Most of our customers who applied bump fighter daily on prone ingrown hairs no matter in bikini area or face or neck or back.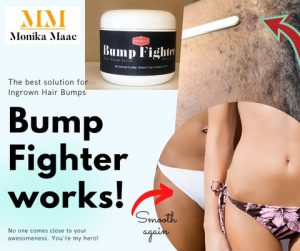 However, it will not works if you put it in the drawer after applying a few days. That is why ingrown hair bump won't go away.
Bump fighter soothes the skin while cleaning up the bacteria in the skin. Bump fighter is a light serum will keep bacteria but not dry out your skin. Apply bump fighter on your skin like you brush your teeth, so you will not forget. This is one of the best treatment for ingrown hair cyst, ingrown hair cyst armpit, stop ingrown hair infection. You can do it as ingrown hair cyst home remedy too.